RIP Creed Taylor, who died yesterday. Han was 93 years old.

Creed Taylor has had an everlasting importance to my experiences with jazz and hip hop-samples 🤩.
Still today, I get the thrills when I stumble upon the CTI-logo on records – and I will most definately buy the record.
Brought the bossa-nova to the USA
He started the record label Impulse! in 1956 under the ABC-Paramount company and released several albums by a.o. Ray Charles, J.J. Johnson, Gil Evans and John Coltrane. The albums was often gatefold, meaning you could fold the out, as he was already the aware of importance of the visual appeal of the cover.

In 1960 Taylor switched to the Verve record label, where he published the bossa-nova sound of brazilian artists, and introduced them to the american market. It was Antonio-Carlos Jobim, Astrud Gilberto, Emir Deodato and Joao Gilberto to name a few. Again the cover was important to him, which is seen on alcums by Wes Montgomery, Jimmy Smith, Cal Tjader and others.
Record covers as art
In 1968 Creed Taylor started the record label CTI, which was an abbreviation of Taylor Inc.
Quickly, the company gained success as one of the most important jazz-soul labels. Thru the 70's CTI released recordings by prominent jazzartists, that will make all sampleheads and beatdiggers turn their heads: Freddie Hubbard, Stanley Turrentine, George Benson, Bob James, Milt Jackson, Nina Simone, Paul Desmond, Eumir Deodato, Hubert Laws, Herbie Hancock, Joe Farrell, Airto Moreira, and Ron Carter. The albums were all well-produced of high quality and often included a symphonic orchestra along the classic jazz-instrumentation.

The releases on CTI was with a few exceptions all gatefold covers with an artistic picture of the artist or a landscape (taken by Pete Turner) or a painting, and you could order them as posters by writing CTI.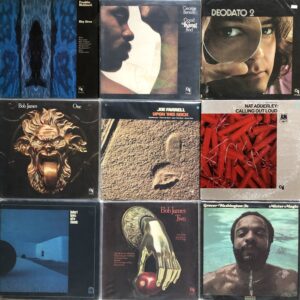 CTI in financial trouble
Creed Taylor's wish to have his own distribution resulted in the label having financial problems by 1974. He made a distribution deal with motown, but it was the beginning of the end. CTI lost its rights to Grover Washington Jr., then to Bob James' solo works, and finally in 1978 the last master rights went to Columbia Records
Creed Taylor will forever be key figure in american souljazz, bossa-nova and importance of the album cover.
Thank you for your great contribution to music, Creed!